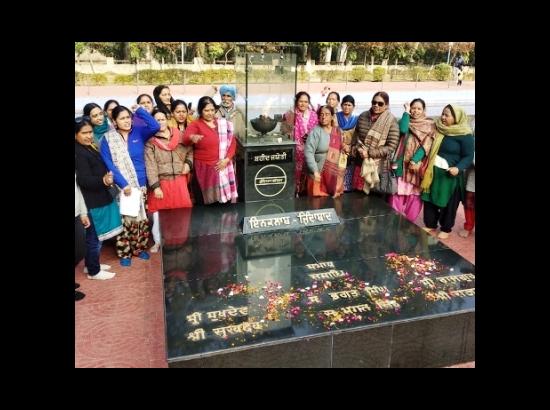 Ferozepur, January 13, 2019: On the eve of Lohri day, the members of Utrakhand Mahila Manch visited Martyrs' Memorial of Shaheed Bhagat Singh, Rajguru and Sukhdev to pay tributes to the legendary.  They pledged to continue to make efforts to fulfil the dream of martyrs for the country.
Later talking to the media persons, Bibi Kamla Pant, President, UMM termed all the rules of India as the broker of foreign looters and working on their gestures.
She said that it is not only in Hindustan but also bringing revolution in the whole world to achieve the ideology of the martyrs.  Commenting after witnessing the Retreat Ceremony at the Hussainiwla border, we feel excited being a part of the parade but at the same time, we feel ashamed that British rulers are observing the state of affairs by parting us and looting both the countries. They alleged that foreign powers are also selling their weapons by creating a fissure between the two countries.
Gurmit Judge, State Secretary, Revolutionary Culture Centre, Punjab welcoming the deputation of Utrakhand Mahila Manch, invited the people of Bangladesh, India and Pakistan People's Forum to participate at Jallian Wala Bagh on April 13, 2019, during the celebrations of Centennial Year. Sathi Hira Singh Moga also addressed the visitors.
On this occasion, the songs of 'Inqalab Zindabad' was sung by all and later they left for Amritsar.