In Bajidpur Village DC launches Plantation Driver through children to plant 550 saplings in each village
To commemorate 550th  Birth Anniversary of Guru Nanak Dev Ji, 4.60 lac saplings to be planted in Ferozepur
Our Correspondent:
Ferozepur, July 1, 2019: To commemorate the 550th birth anniversary of Shri Guru Nanak Dev Ji, a total of 550 saplings will be planted in every village of the district, as a part of which a mega-plantation drive was launched by the deputy commissioner Ferozepur Mr. Chander Gaind in the village Bajidpur on Monday.
The deputy commissioner launched this drive through primary school students of village Bajidpur by making them plant samplings in the school campus. Mr. Gaind exhorted the students to ensure the maintenance and growth of the saplings planted by them by regularly giving them water and protecting them from animals. He then asked school management committee, NGOs involved in this drive to ensure the maximum growth and safety of the plants.
Divulging the details, the deputy commissioner said that there are 838 Panchayats in the Ferozepur district, where more than 4.60 Lakhs plants will be planted during the next two months i.e. July to September. Under the drive, each village to have 550 saplings and our target is to complete the whole drive during monsoon.
Before launching the drive, the deputy commissioner paid obeisance at the historic Shri Jamni Sahib Gurudwara and prayed for the prosperity, health, and environment of Punjab. The Gurudwara Management committee welcomed the deputy commissioner and presented him a robe as a token of respect. The plantation was also done in the premises of Gurudwara Sahib. Addressing a gathering at the Gurudwara Sahib, the deputy commissioner said that the move to plant 550 samplings in each village will prove a boon for depleting forests in the state. He called upon people to come forward and plant maximum numbers of three in the area so that this drive can be turned into a mega success event in the Ferozepur.
Mr. Tarsem Singh, Assistant Range Officer of Forest department said that the department is all set to plant more the 4.60 Lakh saplings in the district and most of the plantation will be done during rains. We are generally planting shadow trees, fruit and flower plants besides medicinal plants at some selective locations, mostly in the schools, added Mr. Tarsem Singh.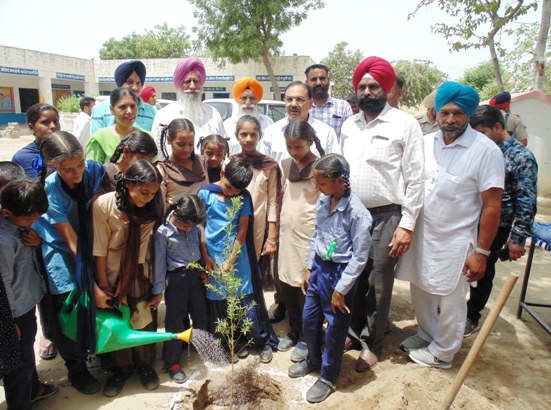 On the occasion Sarpanch Mr. Balwinder Kumar, Principal Daljit Kaur, Darshan Singh Sherkhan, Pritam Singh Malsian, Harpreet Singh Sherkhan, and others were present.