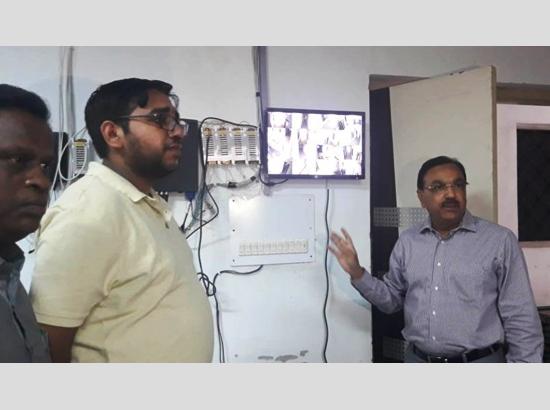 Three-tier security at Counting Center besides 24×7 CCTV Surveillance arrangements in Ferozepur
11,66,747 votes polled – male 6,25,898, female 5,40,840, 9 third gender
Our Correspondent:
Ferozepur, May 20, 2019: A three-tier security has been ensured at the counting center that includes CAPF Forces, Paramilitary Forces, and Punjab Police. Besides 24X7 CCTV surveillance at the strong rooms has been ensured to make strong rooms one of the most secure areas at the counting halls, said deputy commissioner.
In order to ensure maximum security and foolproof counting arrangements for counting day on May 23, 2019, the deputy commissioner cum district election officer Chander Gaind visited the counting center set up at Dev Raj Hi-Tech Engineering College to oversee the ongoing arrangements.
Deputy Commissioner accompanied by the ARO Amit Gupta, Election Tehsildar  Chand Parkash visited the strong rooms and review the security setup.
Interacting with the media persons, he said, the Election Commission, District Election Officer can any time monitor the activities at the strong rooms through CCTV cameras. He said that the counting will commence at 8 am in the morning and counting of assembly segments related to other districts will take place at their respective districts and result will be declared after compiling data of all nine assembly segments of the Ferozepur-10 parliamentary constituency.
The counting of votes related to Ferozepur Urban, Ferozepur rural, Guru Har Sahai and Zira assembly segments will be conducted here on May 23, he said. Meanwhile, the scrutiny of poll process related documents was done at the counting center in the presence of General Observer IAS, Mashir Alam.
The deputy commissioner congratulated all the voters of the Ferozepur parliamentary constituency for making district one of the leading districts in poll turnout with 72.30 percent polling. He said that a total of 11,66,747 voters including 6,25,898 male, 5,40,840 females, 17,287 first time voters, 1885 Persons With Disabilities voters and 9 voters of the third gender have cast their votes in the general elections. The deputy commissioner said that the election commission had facilitated voters by approving 11 documents in the place of Epic card also known as voter ID card, which yielded massive response from the voters as total 3,14,783 votes have used these alternative documents to exercise their franchise.
Divulging the assembly segment vise polling details the deputy commissioner said that 1,15,056 voters including 62056 male and 5299 female voters have cast their votes in the Ferozepur city segment, likewise in the Ferozepur Rural 1,37,124 voters ( 73066 males and 64058 females), Guru Har Sahai 1,27,249 ( 67083 males and  60163 females), Jalalabad1,59,169 ( 84182 males and 74984 females), Fazilka 1,34,744 ( 71772 males and 62971 females), Abohar 1,19,501 ( 64,796 males and 54,705 females), Balluana 1,29,124 ( 70121 males and 59003 females), Malout 1,19,311 ( 64915 males and 54395 females) and in the Shri Muktsar Sahib 1,25,469 voters including 67097 male and 57,562 female voters have exercised their voting right.