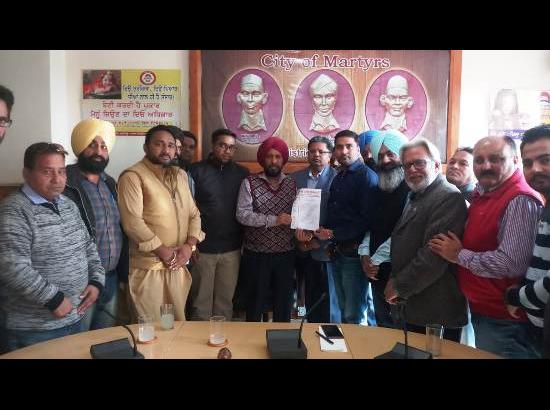 Ferozepur, December 5, 2018 ( By TNL Bureau):  The Press Club Ferozepur has stepped in the social services also by organizing health check-up and blood donation camps. With the loss of one of its senior member – Parminder Singh alias Kaka – suffering from Dengue but could not reach Ludhiana for better treatment on referral by the local hospital authorities, due to non-availability of Ventilator Equipped Ambulance VEA, the Press Club decided to approach the district administration to arrange the same for emergency patients in Ferozepur to save their lives with timely treatment.
A memorandum to Deputy Commissioner in the name of Chief Minister and Health Minister was presented by Mandeep Kumar, President, Gurdarshan Singh Sandhu, Chairman, along with members of the Club.
Balwinder Singh Dhaliwal, Deputy Commissioner assured the Press Club, the VEA will be shortly made available through the Red Cross.
Talking about the setting up of PGI satellite centre in Ferozepur, DC said, all formalities at our end are complete and it is only at the level of higher authorities to decide the issue.  However, your memorandum will also be forwarded to the CM.  In the meantime, in the recent meeting at Chandigarh the issue of PGI in Ferozepur was also raised and shortly we are planning to start the OPD in Civil Hospital for expert advice of the doctors in chronic and critical cases.