New Delhi 24 March 2022: The Ministry of Women and Child Development is celebrating the 4th Poshan Pakhwada from 21st March to 4th April 2022. For the celebration of Poshan Pakhwada, the emphasis is on two broad areas viz. identification & celebration of Healthy Child, and integration of modern and traditional practices for healthy India within the thematic areas around Poshan MITRA (Modern, IT based, Traditional& Regional Activities).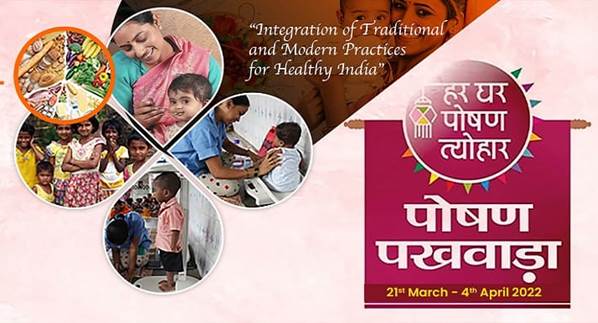 Under the theme for integration of modern and traditional practices, special focus will be on the following:
Measurement of Height and Weight of Children under 6 years who are beneficiaries in the Anganwadi Centres
Activities focused around Gender-Sensitive Water Management and generating awareness in women about the importance of water conservation and promoting rainwater harvesting structures including in Anganwadi Centres
Test Treat and Talk Anaemia and
Promote traditional food for healthy mothers and child esp. in Tribal Areas
POSHAN Abhiyan launched by the Prime Minister, Shri Narendra Modi on 8th March 2018 has reached a long way in ensuring wider people's participation. Poshan Abhiyan endeavors to improve nutritional outcomes in a holistic manner in convergence with other Ministries. Behavioral change at the individual and community level is an important component to achieve the desired goals of Poshan Abhiyan. Clarion calls from Prime Minister on various occasions including 'Mann ki Baat' have further helped to sensitize communities on issues concerning nutrition through Jan Andolan-based mass public participation.
Ministry of Women and Child Development will be the nodal Ministry for coordinating activities during the Poshan Pakhwada. In the States / UTs, Department of Women & Child Development / Social Welfare Department will be the nodal department for Poshan Pakhwada.