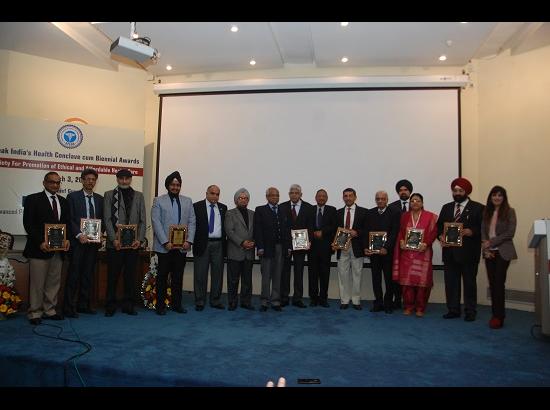 Our Correspondent
Chandigarh, March 04, 2019: SPEAK India Health Conclave was organized by Society for Promotion of Ethical and Affordable Health Care (SPEAK), in collaboration with Post Graduate Institute of Medical Education & Research at the auditorium of Advanced Pediatric Centre. The theme of the conclave was 'reducing spending on wasteful and unethical medical practices'.
First session was dedicated to 'laying down of protocols by eminent and senior doctors'. Dr SK Sharma, ex-director, & HOD Urology PGI stated that  most cases of Prostate  enlargement, a common condition in elderly males can be treated with medicines and lasers and only small percentage require surgery, Dr TS Mahant, of Fortis also endorsed the same view that more than 90% cases of chronic heart disease do not require stenting or surgery, Padma Shri Dr Harsh Kumar, from New Delhi said the same thing about glaucoma i.e surgery should be the last resort. Dr Neeraj Gupta said one third cases of joint replacement surgery is in appropriate. Dr TS Thakur of  PGI said if healthy life style is followed, especially control of obesity most of the deaths due to advanced non-communicable diseases can be saved. Dr Vinay Sakhuja, emphasized the role of teaching ethics in MBBS as a big step forward in providing affordable patient care. Dr SS Baijal, of  Medanta talked of avoidable interventions in radiology  and Dr SK Jindal cautioned about aggressive care in end of life situations.
In the second session Dr R Kumar, President SPEAK advised to focus on wellness. "This will obviate the need to set up more AIIMS or PGIs thus saving lot of money of the nation." Said Dr Kumar. Dr Kumar added, "The Society also honoured eminent and ethical doctors/hospitals so as to send a message across that the country can usher in 'healthy India' only, if we make medical care ethical. "
Awards of Excellence were conferred by the Chief Guest, Justice Ajay Kumar Mittal of Punjab and Haryana High Court on Dr Harsh Kumar, Dr Vinay Sakhuja, Dr TD Singh, Dr SS Baijal and Dr TS Mahant. Institution awards were given to Prof Kanchan Bhardwaj Patiala, Dr Neeraj Gupta GMSH-16, Dr Gurinderjit Singh and others, Mohandai Oswai hospital Ludhiana. Prof I. S Jain Memorial Gold Medal went to Prof Amod Gupta, and the Silver medal went to Dr Simar Rajan Singh, for being the best student from Advanced Eye Centre, PGI.
The chief guest admired the efforts of SPEAK India and advised not to waste national resources, when there is no hope of recovery.