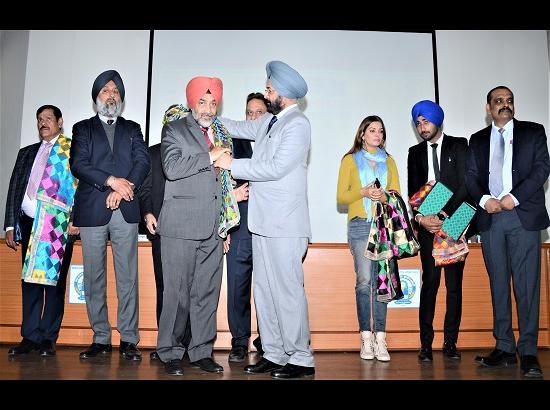 Prof. Jasbir Singh Hundal, Registrar MRSPTU, Bathinda being felicitated with "Award of Appreciation" by GNDU, Vice-Chancellor, Prof. Jaspal Singh at Alumnus meet GNDU, Amritsar recently.
By SK.Vyas
BATHINDA, FEBRUARY 27, 2019: Prof. (Dr.) Jasbir Singh Hundal, Registrar Maharaja Ranjit Singh Punjab Technical University (MRSPTU), Bathinda has been felicitated with "Award of Appreciation" in recognition of his contributions to Academic Administration by the Guru Nanak Dev University (GNDU), Amritsar in its recently held Golden Jubilee Alumni Meet.
The honor is given to few selected distinguished alumnus of the GNDU, Amritsar from across India, who have made their mark career in different fields.
Recognizing his excellent contribution in the field of administration of Academic Institution of the University, the "Distinguished Alumnus Award", was presented to him by the Prof. Jaspal Singh, Vice-Chancellor of GNDU, Amritsar.
Prof. Hundal, a distinguished alumnus of GNDU has been working as Professor in Physics and Registrar of MRSPTU, Bathinda. Earlier he had worked as Campus Director of Giani Zail Singh Campus College of Engineering and Technology (GZSCCET), Bathinda from Sept. 2011 to April 2016
During his tenure as Campus Director, the Giani Zail Singh Campus College of Engineering and Technology, Bathinda got many state and national level awards and honors such as
· "Best Punjab Government Technical Institute" awarded to Giani Zail Singh Campus College of Engineering and Technology, Bathinda in CMAI National Punjab Education Award 2013 by Hon'ble Cabinet Minister of Technical Education & Industrial Training, Punjab in 2013.
· "Best Architecture College of the Year" awarded to Department of Architecture of this institute by Punjab Technical University, Jalandhar in 2014.
· "Outstanding Institution Award" awarded to this institute by National Institute of Technical Teachers Training and Research, Chandigarh for having adjudged as one of the outstanding engineering colleges in the Northern Region for the years 2014-15.
· The College also won "Campus Preparedness Award 2015".
Additionally, as Campus Director of GZSCCET, Bathinda, he started new courses. Consequently, the admissions in this college increased drastically and the income of the college rose from Rs. 15 Crore to Rs. 26 Crore, thus the college which was in financial crisis became self-sufficient. The college was selected to avail the financial assistance worth Rs. 10.00 Crore under Technical Education Improvement Programme (TEQIP-Phase II) in the year 2012.
Prof. Hundal himself was awarded "Edupreneurs Award 2013" for his contribution to Engineering Education in India by Engineering Watch Magazine, New Delhi (selection panel consisted of Vice Chancellors of 5 State Universities).
As an alumnus of GNDU Amritsar, he received the M.Sc. and M.Phil.  Degrees in Physics in 1986 and 1988 respectively. He received his Ph.D. degree from Indian Institute of Technology, Roorkee (earlier University of Roorkee, Roorkee) in 1998.
He carried out his Post-Doctoral research work in the Materials Research Institute on actuators, transducers, relaxor ferroelectric polymers as a Post-Doctoral Research Scholar at the Pennsylvania State University, University Park (Pennsylvania), the USA in 2001. Currently, his research group is engaged in the synthesis and characterization of Ferroelectric and Multiferroic Materials and their applications. He has supervised three Ph.D. and supervising two Ph.D. students. He has published more than 70 research papers in International Journals and conferences.