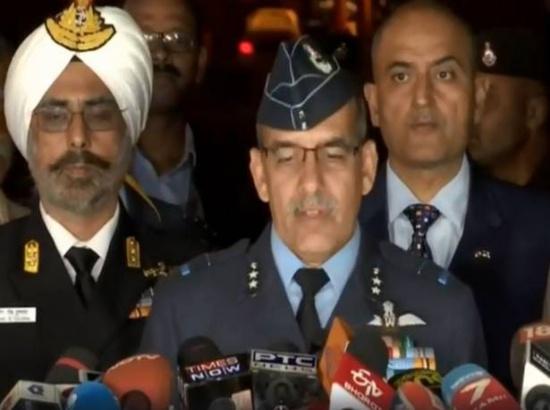 New Delhi, February 28,2019: In a joint briefing of the Armed Forces, Air Vice Marshall RGK Kapoor said, "We see this as a gesture in consonance with Geneva conventions" when asked if the release of Wing commander Abhinandan Varthaman was a good gesture.
The Indian Air Force, Army and the Navy on Thursday, 28 February while briefing the media said that it was looking forward to Varthaman's return from Pakistan.
Kapoor addressed the media along with Major General Surendra Mahal and Rear admiral Dalbir Singh Gujral.
Kapoor also informed," Pakistan claimed that they intentionally dropped weapons on open areas, but the fact is Pakistan targeted military assets. PAF bombs have fallen in Indian Army compound it did not cause any damage to us. One Pakistani F-16 was shot down by an IAF MiG 21 Bison Aircraft on Wednesday, East of Rajouri, parts of F-16 have been recovered, inside Indian territory".
IAF also presented proof of Pakistan's use of fighter jet F-16 inside Indian territory
Meanwhile, Rear Admiral Dalbir Singh Gujral said,"We stay in a high state of vigilance. I assure of a resolute, strong, swift action by the Navy. We stand with Navy and Army for the nation's security."
Major General Surender Singh also said that the Indian Army is committed to maintain peace and stability in the region.
The briefing took place hours after the Pakistan Prime Minister Imran Khan announced the release of IAF pilot Varthaman on Friday as a peace gesture.