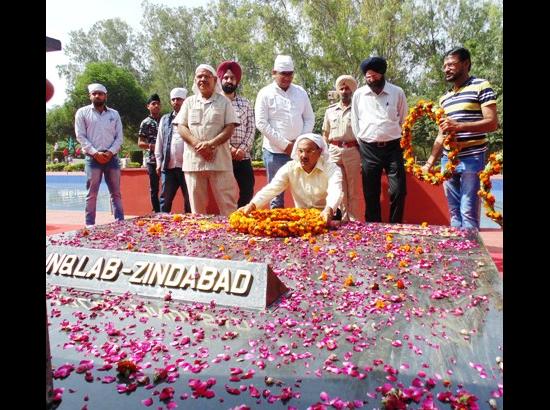 Floral tributes paid to martyrs on Vaisakhi at Hussiniwala
Ferozepur, April 14, 2019:  Today, Deputy Commissioner, Ferozepur Chander Gain paid floral tributes to martyrs at Martyrs Memorial, by especially joining at the Vaisakhi Mela at Hussainiwala.
Deputy Commissioner said, today is Vaisakhi festival besides completion of 100 years of Jallianwala Bagh massacre – the incident still touches hears of people and entire nation bows before the martyrs.
He paid floral tributes to Shaheed Bhagat Singh, Rajguru, Sukhdev and Rajmata Vidyawati.  Because of their sacrifices, Indian got freedom and young generation should get inspiration from the lives of martyrs to serve the nation. He also appealed to the youths to keep themselves away from the drugs and also come forward to help those trapped in the clutches of drugs.
Adequate arrangements of security, drinking water, plying of buses, trains, etc. were made by the police and administration for the visitors at the Vaisakhi festival besides Civil Defence and fire brigade teams.
Ranjit Singh, AC(G), Harjinder Singh, DDPO, Ashok Behal, Secretary Red Cross and officers of various departments were also present on this occasion.