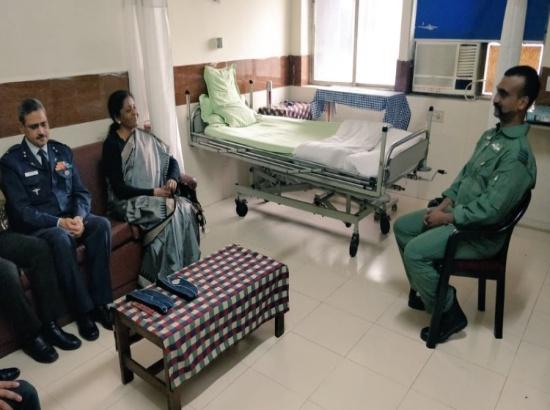 New Delhi, March 2, 2019: "Entire nation is proud of your courage and determination", said Defence Minister Nirmala Sitaraman after meeting IAF Wing Commander Abhinandan Varthaman who returned to India last day from Pakistan.
The minister met the pilot at Air Force Central Medical Establishment (AFCME) on Saturday, where Abhinandan is undergoing medical tests.
Defense ministry took it to twitter appreciating the pilot,"For honor of the Nation, you kept duty ahead of your personal safety. Wearing India Colours on your sleeve, you showed calm and poise in adversity. #Abhinandan you created history and in you, we find the best of the Indian Armed Forces. Bravo #AirWarrior, more power to you."
Meanwhile, it has also been learned that Abhinandan Varthaman explained to the Defence Minister his near 60-hour captivity in Pakistan.
Varthaman arrived in the national capital by an IAF flight around 11:45 PM Friday, nearly two-and-half hours after he crossed over to India through the Attari-Wagah border.
He was captured by Pakistani authorities on February 27 after his MiG 21 Bison went down during a dogfight with Pakistani jets.( Courtesy:babushahi.com):