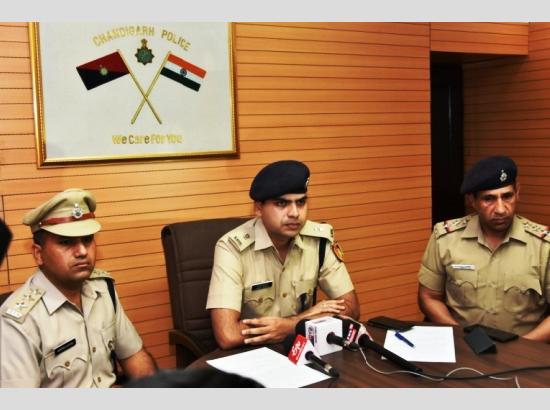 Chandigarh Police apprehend one person with the recovery of biggest drug haul
Chandigarh, May 12, 2019: Crime Branch of Chandigarh Police got a major success in apprehending one person from whom the biggest drug haul in the history of Chandigarh Police was recovered.
Today,  a team of Crime Branch under the supervision of DSP Sukhraj Katewa led by Insp. Amanjot Singh. SI Satvinder Singh and other police officials of Crime Branch were patrolling in the area of Police Station I.T Park, Chandigarh in regards to upcoming Lok Sabha Elections and while patrolling a secret information was received that a person namely Mintu who is a resident of Bapu Dham, Sec.26, Chandigarh has criminal past and presently he is possessing illegal weapon and may create law and order problem during the elections.
On the basis of this information Mintu who was coming from Kishangarh chowk to Shastri Nagar Light Point, Chandigarh in Silver Colour Innova Crysta No. HR99ACK (T) 4666 was apprehended and from his possession, one Pistol of .32 bore along with 5 live cartridges was recovered and during the search of his Innova Crysta total 14 bags were found and on checking of these bags a huge quantity of Ganja was recovered and on weighing which was total 280 kg. In this regards FIR No. 101 dated 12.5.2019 u/s 20 NDPS Act and 25/54/59 Arms Act PS-IT Park, Chandigarh was registered.
Profile of accused
1.    Mintu S/o Sh. Ramesh Kumar R/o # 719/9, BDC, Chandigarh. Aged 37 years.
Earlier accused Mintu used to work as a fruit vendor in Sabji Mandi, Sec.26, Chandigarh, but now he is selling drugs (Ganja) on very higher rate from the rate of procurement and further using illegally earned money in lending loans to the small vendor of Sabji Mandi, Sec.26, Chandigarh.
Modus Operandi
He has procured this Ganja from South on a cheaper rate in huge quantity and was planning to sell it in tri-city in bits and pieces on the higher value. By doing this he makes a profit of almost 2000 %.
Mintu S/o Sh. Ramesh Kumar R/o # 719/9, BDC, Chandigarh has tented past has been arrested on various occasion by Chandigarh Police Cricket Gambling, Rioting, Cheating, illegally capturing of property.
Accused was produced in the court of MS. Gitanjali Goel, JMIC, Duty Magistrate, Chandigarh and his police remand for 06 days was obtained.