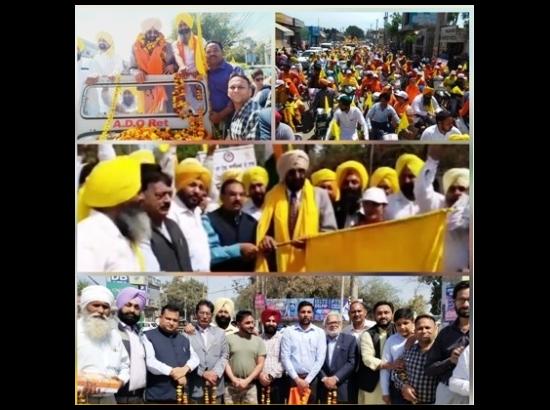 Or Social correspondent
Ferozepur March 22, 2019:  A series of events are being organized by Shaheed Bhagat Singh, Rajguru and Sukhdev Memorial Society ahead of the 87th  martyrdom day of three freedom fighters on March 23.
Today, a motorcycle rally was organized, starting from Saragarhi gurudwara to Hussainiwala, crowded with hundreds of locals, youths, old-timers including women on their bikes. Bhagat Singh's cousin Hakumat Singh especially visited Ferozepur to participate in the rally on martyrdom day.
The rally was flagged off by Chander Gaind, Deputy Commissioner, Ferozepur which concluded at Hussainiwala Memorial while passing through different localities and bazaars in the city and cantonment areas where floral tributes were paid on the busts of Shheed Bhagat Singh Rajguru and Sukhdev.
Members of Press Club, Ferozepur led by Manjit Singh President welcomed the participants of the rally at Press Club Chowk with garlands.
Speaking on the occasion, Chander Gaind Deputy Commissioner said, the martyrs – Shaheed Bhagat Singh, Rajguru and Sukhdev –  have sacrificed their lies for our country. There could be no other important day than to remember martyrs on this day. We should commemorate this day by organizing programmes to create awareness among the people to keep an eye on their ideologies and youths should shun the menace of drugs and concentrate on their studies.
Jaswinder Singh Sandhu, President of Memorial Society said, the dreams of martyrs are yet to be fulfilled even after 87 years of their sacrifices.  The circumstances are becoming so serious that the patriotic spirit is missing and the society is attached with number of social-evils.  It is a small efforts by the society to create awareness among the masses about their duties and responsibilities.
He said, there is a need to make the history of our martyrs as a part of chapters in the school, college and university books.