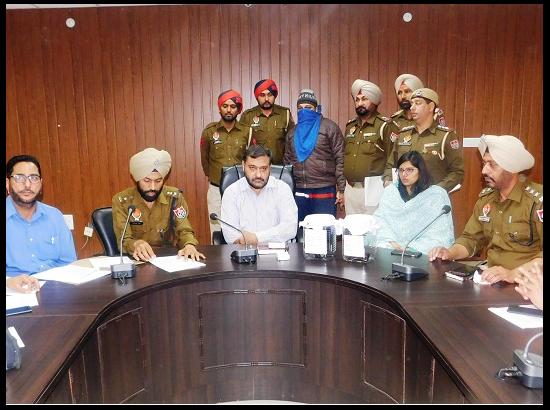 Our Correspondent
Barnala, March 19,2019:      Barnala police claimed to have arrested a C-category gangster from Mehal Kalan and also recovered two country-made pistols from his possession. District Election Officer-cum-Deputy Commissioner Barnala  Tej Partap Singh Phoolka jointly organized a press conference with SSP  Harjit Singh to Barnala, March 19 close the information.
While elaborating the matter,  Phoolka said that the district administration has been committed to organising peaceful and fair parliamentary elections in the district.
Meanwhile, SSP Harjit Singh said that the gangster has been identified as Hardeep Singh alias Deepa resident of Sodha Patti Mehal Kalan. He added that police party had recovered a .32 bore pistol along with 6 live cartridges from his possession at the time of arrest and a 9 mm pistol along with 2 live cartridges during investigations.
He said that as many as 19 FIRs have already been registered against Deepa in various districts out of which 5 have been lodged in Barnala district.
SSP said that Deepa procured the illegal weapons from Dharminder Guggni who was also under police scanner. He added that Deepa belonged to Jaspreet Jassa's Bilaspur group and a case under NDPS has also been registered on his brother Jagjit Singh alias Jeeta.
He said that another aide of Deepa, Buta Singh son of Mukhtiar Singh was also nabbed by the police in February and also recovered 2 pistols from his possession.
He said that during investigations, the police team has also came to know about his relations with Gurdeep Singh Maana who has been lodged in Nabha jail for his involvement in criminal activities.
A case under Sections 25/54/59 has been registered against Hardeep Singh Deepa at Mehal Kalan police station and police has also got his remand till March 20.
On this occasion, ADC (general) Ruhee Dugg, SP Sukhdev Singh Virk, DSP Ravinder Singh, DSP Rajesh Chhibbar, Inspector Rahul Kaushal, SI Jaswant Singh and ASI Shareef Khan were also present.