By SK.Vyas:
KARTARPUR, AUGUST 14, 2019: On the eve of the country's 73rd Independence Day, Punjab Chief Minister Captain Amarinder Singh on Wednesday dedicated the third phase of the Jung-E-Azadi memorial here to the martyrs of the Jallianwala Bagh Massacre and the unsung heroes who were incarcerated in the Andaman Cellular Jail during the freedom struggle.
The memorial would go a long way in spreading awareness among the younger generations about India's glorious past and the sacrifices made by the hundreds of thousands of people who fought to free Indian from the British shackles.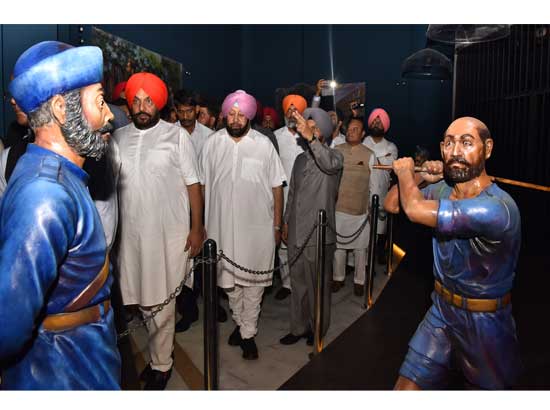 On the occasion, the Chief Minister also digitally launched a slew of other projects for Jalandhar district, as part of Rs 450 crore worth of development and welfare projects inaugurated across the state on the I-day eve.
Addressing a public gathering after dedicating the Rs 20 crore third phase of the Jung-E-Azadi memorial, the Chief Minister underlined the need to connect youth with the glorious legacy of the national freedom struggle. It was important, he said, to imbue the youth with a spirit of nationalism and patriotism. Recalling his visit to the Cellular Jail in Andaman, the Chief Minister said it had inspired him to build a memorial as a mark of honour to the national heroes. The CM informed that the first and the second phase of this memorial had been constructed at a cost of Rs 290 crores.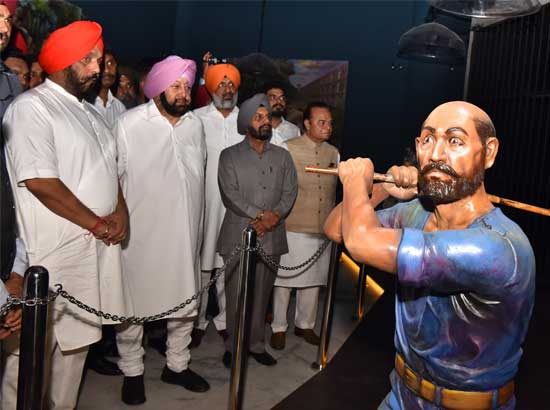 Referring to the success of his Government's flagship 'Connect with Your Roots' programme in removing misconceptions being spread about Punjab by vested interests outside the country, the Chief Minister urged youth visiting as part of the programme to personally see the rich cultural legacy of the state at Jung-E-Azadi Memorial, Partition Museum, Amritsar and Virasat-E-Khalsa, Sri Anandpur Sahib etc. He also asked Tourism and Cultural Affairs Minister Charanjit Singh Channi to bring maximum schools students to Jung-E-Azadi memorial so that they could be properly educated and sensitised about the nation's journey to independence.
In his welcome address, Dr. Hamdard briefly outlined the journey of the completion of the memorial, which he envisioned to be developed as 'Tirath Asthan' (pilgrimage). He revealed that so far over 6.50 lakh people had visited the memorial since its inception, including nearly 91,000 students.
Charajit Singh Channi thanked the Chief Minister for his support for completing the memorial, which showcases the immense contribution of Punjabis in the freedom struggle.
Prominent amongst those present on the occasion were Member Parliament Chaudhary Santokh Singh, Chairman Markfed Amarjit Singh Samra, MLAs Pargat Singh, Sushil Rinku, Chaudhary Surinder Singh, Rajinder Beri, Avtar Henry, Hardev Singh Ladi, Chairman Punsup Tejinder Singh Bittu, Mayor Jagdish Raj Raja, Chairman Improvement Trust Daljit Singh Ahluwalia, Principal Secretary Cultural Affairs and Tourism Husan Lal Special Principal Secretary to CM Gurkirat Kirpal Singh and Director Cultural Affairs M S Jaggi.