Inauguration by Vivek S. Soni, SSP, Ferozepur
2nd Mayank Sharma Memorial Foundation Badminton Championship begins in Ferozepur
Our Correspondent:
Ferozepur, December 14, 2019: Today, the 2nd Badminton Championship under the banner of Mayank Sharma Memorial Foundation – a non-government social organisation, founded with dedication and special focus on the social issues relating to education, traffic, sports and social activities – was inaugurated today by Vivek S. Soni, SSP, Ferozepur at Shaheed Bhagat Singh Multipurpose Indoor Sports Stadium.
Anirudh Gupta, CEO DCM Group of Schools and Harinder Singh Khosa were also present on this occasion.
Conveying his best wishes to the participants for their performance in the 2nd Badminton Championship, the Chief Guest of the function, Vivek S. Soni, appreciated the motives of the Foundation and exhorted the youths and players to put their energy in sports.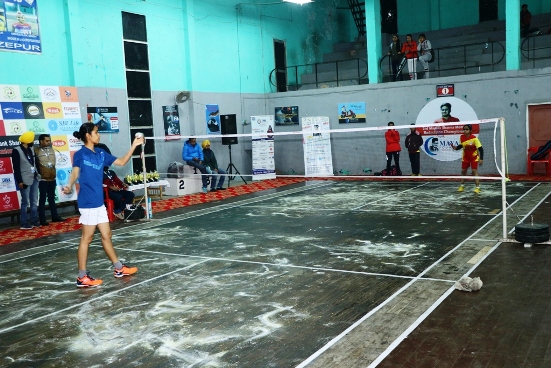 Giving more information about the events, Deepak Sharma, Gazal Preet Singh and Rakesh Kumar said, the badminton championship has been divided in three categories – Under-13, Under-15 and Under 19 Boys and Girls and as many as 160 students from districts of Ferozepur, Faridot, Fazilka, Ropar, Sangrur, Patiala, Amritsar, Jalandhar, Ganganagar, Hanumangarh, Bathinda Mansa, Ludhiana, Pathankot and Moga are participating.
Chief Referee Harkamal Singh and Sanjay Kataria of District Badminton Association said, all the participants will be given the Certificate of Participation while the winners standing First and Second will get a cash prize of Rs.7100, Rs.5100.
Present among others were Sunil Sharma, District Sports Officer, Komal Arora, Deputy DEO, Ashwani Grover, President, Municipal Council, Rinku Grover, Ajay Joshi, Baldev Saluja, President Rotary Club, Rajesh Mehta, Principal Govt. Sr.Sec. School for Girls, Ashok Behal, Secretary Red Cross and others